Professional Longarm Machine Quilting
Jo West - Sunshine Quilt Company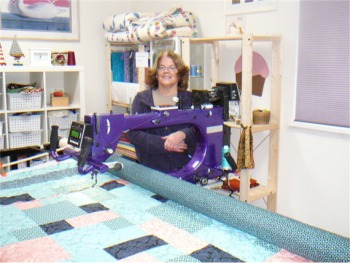 A professional longarm quilter using a hand-guided stitch regulated Gammill Classic Plus long arm quilting machine, Jo will help you finish those quilt tops!
Serving your longarm quilting needs in the Tacoma & Gig Harbor, Washington area. Please contact Jo for an appointment for completion of your quilt.
It is the goal of Sunshine Quilt Company to take special care during the longarm quilting process to ensure the individual design and intent of the quilt top is carried through to the finished product.
Custom Quilts from Start to Finish
The choices are endless and we work closely with you in choosing a pattern, and selecting the fabrics to make sure your quilt meets your vision.
Memory Quilts
A great way to commemorate a special event using your own photos
Quilting Services
Quilt Finishing
Quilt Top
T-Shirt Quilts
Quilts made from T-shirts are very popular, and we can make a quilt from most any shirt, including Seahawks, Mariners, Sounders, and other popular shirt designs.
We do this using simple stitching techniques; stippling, meandering, loops and swirls, waves, flowers, hearts and stars. We carry a large selection of thread. Our goal is to maintain a maximum turnaround time of two weeks often less.
Finally, in an effort to make machine quilting affordable to most quilters as well as remain profitable, we have set our price at a competitive $.02 per square inch.
View our longarm quilting photo gallery.
Providing longarm quilting services in Tacoma, WA and Gig Harbor, Washington.
Now that you have completed that quilt top you started three months ago or five years ago, don't just put it in the closet or in a drawer with the intention of I'll finish it someday when I have more time and money... Sunshine Quilt Company in Fircrest, Washington offers affordable machine quilting on a hand guided Gammil longarm machine. Your quilt deserves to be finished and put on display or better yet use it everyday.
Jo West offers simple quilting techniques while enhancing your quilt to show off your beautiful work. Call her today for an appointment.
Preparing your Quilt for Longarm Quilting
Trim all loose threads front and back of your quilt top.
Iron your top and backing with all seams pressed to one side or open.
You do not need to baste or pin the top, backing and batting. I do that one layer at a time on the machine.
Please cut your backing and batting 3-4 inches larger than your quilt top on all four sides. This step is very important.
Please trim your backing so the top and bottom are straight.
Try not to have wavy or ruffled borders, as they are difficult to work out when quilting.
T-shirt Quilts
T-shirt quilts are very popular and make a special gift to mark milestones/events in one's life. Price is determined by number of t-shirts. Typically they run $300-$500. Please bring clean and uncut t-shirts.
You still have time to get your T-shirt quilt to me.